Avoiding Home Damage This Winter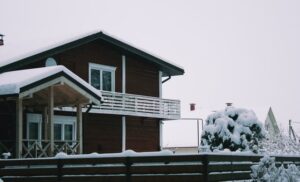 Water and fire damage drastically increase during the winter. If you want to safely enjoy your holidays, you have to make sure that you prevent these safety and health hazards. If we specifically talk about water damage,  from frozen pipes to leaky water heaters, there are various causes of water damage during winters.
During the coldest months of the year, the risk of certain types of house fires increases as well. According to the National Fire Protection Association, residential fires occur more in winters than in any other season.
What Causes Water Damage During Winters
There are various causes of water damage during winters. Let's take a look at the most common causes and ways you can prevent them from damaging your house.
Frozen pipes are the number one cause of water damage in winters. Freezing temperature causes water in the pipe to freeze, which causes H20 molecules to expand. If the H20 molecules expand a little too much, they cause the water pipes to burst. To prevent pipes from busting cold weather, make sure to keep water faucets running, install heat tape, or seal leaks that allow cold air in the house.
Leaking water heaters is another cause of water damage in cold weather. Temperature in winters drops significantly, causing water heaters to work harder to heat the water. If you have an old water heater, the chances are that it will leak or, worst, burst. To prevent water heaters from leaking, make sure to drain water lines, check water lines, and add a pre-water heater filtration system to protect the tank from the source.
One of the primary causes of water damage during winters is melting snow. Because of the snow melting, there might be too much water accumulating on the roof, increasing the risk of flooding and mold formation. If that happens, you will be dealing with two health hazards at the same time – water damage and mold growth. To prevent water damage caused by melting snow, make sure to remove the snow off your roof and clean out gutters.
It's important to take necessary safety precautions to avoid safety hazards like water damage. It's equally important to call home restoration experts if your property has suffered damages due to water.
When it comes to water damage, it's important to act quickly and start repairing the materials and extracting water from the house because if you don't, molds will grow within 24 to 48 hours of the initial water damage, putting your health at risk.
What are the Causes of Fire Damage During Winters
The cold weather brings itself a high risk of fire damage. Here, we'll discuss the most common causes of fire damage during winters.
Unattended cooking is the leading cause of house fires. It causes the most residential fires all year long and in winters, too. According to the National Fire Protection Association, the US fire departments, from 2014 to 2018, responded to 172,900 residential fires per year caused by cooking activities. The only way you can prevent fires caused by unattended cooking is by asking someone to watch the food if you have to step out of the kitchen.
For many people, winter is not completed without the fresh scents of vanilla and cinnamon gliding throughout their house. For many of us, a fun part of winter is to light up scented candles, and fill our spaces with beautiful scents. However, it might come as a shock to you that each year, candle causes 15,600 house fires. Winter is the peak time of residential fires caused by candles. To prevent residential candle fires, make sure to burn candles in well-ventilated rooms and keep candles at least a foot away from flammable materials.
One of the primary causes of fire damage during winters is smoking. During 2008 – 2010, 7,600 smoke-related fires occurred in the US each year. To prevent smoke-related fires, make sure that you don't smoke indoors, regardless of how tempting your house feels to enjoy a cigarette indoors. It's also important to keep cigarettes, lighters, and matches away from children. As most smoke-related fires start in bedrooms, make sure to put out cigarettes on stable surfaces and avoid using your pillow.
Regardless of the sevirty of the residential fire, it's important to call home restoration experts so that they can remove soot and smoke from the house because they are linked with severe health conditions like heart attacks, chronic obstructive pulmonary disease, emphysema, and asthma.
Looking for an Authentic and Knowledgeable Home Restoration Company in Ohio?
Finding a reliable home restoration company is not easy. But thankfully, there's one that can restore your house as soon as possible while making sure that further damages are prevented. 911 Restoration of Akron-Canton is the company we are referring to.
Disasters and damages don't see the time before taking place. Thus, the home restoration company offers an arrival time of 45 minutes. The home restoration experts offer 360 restoration services that include water damage restoration, fire and smoke damage restoration, mold removal, sanitization, sewage backup cleanup, commercial property damage, and disaster restoration.
The home restoration experts realize that your property is your lifeline, and it needs proper repairs after facing a disaster. Because of the special equipment, years worth of experience, relevant certifications, and training, the home restoration company offers the latest restoration solutions to make your house better than what it looked before.
Looking for a restoration company that treats your house as if it was their own? 911 Restoration of Akron-Canton is the one you need to call!