Water Damage Restoration in Akron-Canton
Your Local Restoration Experts
911 Restoration of Akron-Canton
If your beloved property in Akron-Canton has been devastated by fire, water, mold, flood damage, or a natural disaster, 911 Restoration of Akron-Canton is here to assist you. We offer 24/7/365 emergency service and comprehensive property restoration in Ohio. Our certified technicians are available round-the-clock, ensuring a swift response to your needs. Rest assured, an expert team will be at your door in 45 minutes or less, guaranteed. Call us at (234) 235-6624 for immediate assistance and a free visual inspection.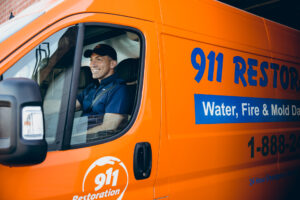 Whether you require water damage restoration, fire damage restoration, sewage backup and removal, mold remediation, or any other form of disaster restoration, trust the extensively trained staff at 911 Restoration of Akron-Canton. Every technician is certified in all aspects of residential and commercial property restoration. We handle all issues that plague your property, effectively removing the problem, eliminating its cause, and conducting all necessary structural and surface repairs to give you a Fresh Start. Contact us today to restore your property and recover from any disaster that has struck.
Full-Service Restoration Company in Akron-Canton
At 911 Restoration of Akron-Canton, we offer a Fresh Start with our comprehensive selection of property damage restoration services, including but not limited to:
Water Damage Akron-Canton: Understanding the Causes of Water Damage
Water damage is a prevalent issue for homeowners in Akron-Canton, Ohio. It can stem from various sources, such as natural disasters, plumbing issues, and roof leaks. If not promptly addressed, water damage can pose health risks and result in expensive repairs. In this article, we will delve into the causes, prevention, and restoration solutions for water damage in Akron-Canton.
What are the causes of water damage?
Water damage can occur due to various reasons, including:
Natural disasters such as floods, hurricanes, and storms

Roof leaks

Malfunctioning appliances such as dishwashers and washing machines

Clogged gutters

Poor drainage
Regular property inspections are crucial to identify potential sources of water damage. Make sure to inspect your roof, gutters, and plumbing systems regularly to detect any issues early on. By addressing problems proactively, you can prevent water damage from escalating and causing further harm.
In the unfortunate event of water damage, 911 Restoration of Akron-Canton is here to help. We offer 24/7 emergency water damage restoration and repair services. Our dedicated team is available every day of the week to promptly respond to your needs and mitigate the damage.
Great Communication is our Priority Throughout the Process
911 Restoration of Akron-Canton has earned a reputation for its excellent communication skills, a crucial aspect of effective water damage restoration. The company places great importance on communication to ensure a smooth and stress-free experience for clients. Throughout the restoration process, the team is trained to keep clients informed, starting from the initial emergency call and continuing through the final stages of repair and restoration. This emphasis on open communication helps build trust with clients and ensures the best possible outcome for their water damage situation.
To further enhance the client experience, 911 Restoration of Akron-Canton's team of IICRC-certified technicians is available 24/7 to address any questions or concerns clients may have. Regular updates and reassurance are provided to keep clients fully informed and comfortable with the restoration process. This clear and consistent communication approach reinforces the company's commitment to client satisfaction.
Local Restoration Services in Surrounding Areas of Akron-Canton
We are a reliable and responsive company that fully understands the urgency of water emergencies. Equipped with the necessary tools and skilled professionals, they can swiftly respond to your water emergency, providing the immediate support you require. The company acknowledges that water loss can be a distressing experience for homeowners, which is why they are dedicated to delivering efficient and effective solutions.
If you find yourself dealing with water damage, don't hesitate to reach out to 911 Restoration of Akron-Canton. Our team is committed to offering timely and professional services, aiming to alleviate the stress and anxiety of a water emergency. We comprehend that every minute matters in such situations, and that's why we are available to respond promptly and provide the essential support you need. For reliable water damage restoration services, contact us at (234) 235-6624 and let us help you navigate through the restoration process with confidence.
We're proud to serve the community of Akron-Canton and the surrounding areas including: Akron, Canton, Cuyahoga Falls, Louisville, and surrounding areas.