Mold Removal in Akron-Canton
Mold removal can be a nuisance to deal with. Fortunately, 911 Restoration is licensed, bonded, and certified to tackle water damage restoration in Canton and mold remediation.
We're here to help provide peace of mind following a flooded basement, ceiling leak, sewage backup, or another unexpected disaster in the middle of the night.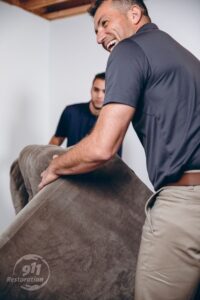 911 Restoration of Akron-Canton is a restoration company that offers 24/7 support for flood cleanup, mold cleanup, and sewage backup.
Following a flooded basement or burst pipe, our Akron-Canton mold removal technicians work quickly to treat the root cause. We extract moisture from your property and also provide mold inspection.
Our mold cleanup technicians are available 24/7 for fast and efficient mold inspection in Akron and surrounding areas like Canton and Louisville.
Prevent Mold after a Disaster in Akron-Canton
As a nationwide "Fresh Start" company, we're all about restoring properties and helping customers feel at ease following a fire, flood, or another unexpected disaster. Our Akron-Canton mold remediation technicians can handle any residential or commercial restoration project with ease. They'll arrive at your property within 45 minutes to assist with the flood cleanup, mold inspection, mold removal, and mold decontamination in Akron-Canton.
Our IICRC-certified technicians can address water damage restoration, smoke removal, sanitization, and full mold removal and mold decontamination. They utilize professional-grade tools to restore your home or commercial business following a pipe burst, ceiling leak, or carpet water damage.
At 911 Restoration of Akron-Canton, we have your best interests in mind. Our mold removal technicians work quickly and safely to eradicate moisture or buildup from your property. They also work to salvage items during a flooded basement situation or another disaster.
Great Communication With Excellent Restoration Services
When you choose 911 Restoration as your contractor, expect full communication, transparency, and excellent customer service from our mold removal and water damage restoration technicians. We are here to help provide much-needed residential and commercial restoration and mold decontamination services to customers in Akron, Canton, and Louisville.
As a licensed, insured, and bonded company, we are trained to utilize state-of-the-art mold decontamination methods to restore your property.
We know a flooded basement, ceiling leak, carpet water damage, or toilet overflow can cause a lot of stress and result in costly repairs. Our team can help you navigate the insurance process and will go over the cost of repairs for mold decontamination, water damage restoration, or other services.
The next time your property has a mold removal emergency, contact 911 Restoration of Akron-Canton.
Removing Mold in Your Basement
With a specialty in water damage restoration, we also specialize in deep cleaning and sanitization services in Akron, Canton, and Louisville. If our mold removal technicians suspect your property is vulnerable to mold, we will offer a mold inspection.
It is quite common to deal with mold after a flooded basement situation. In fact, many Akron-Canton residents and commercial owners may experience situations requiring immediate mold remediation.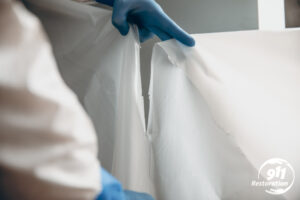 Handling mold removal alone can be hazardous, time-consuming, and costly. It is best to leave mold inspection and mold removal to a professional restoration company.
Our Akron-Canton mold decontamination experts are IICRC-trained and able to offer mold removal, sanitization, and other full restoration services. Our professional-grade mold cleanup tools ensure your property is odor-free and safe from mold.
We recommend getting a mold inspection immediately so your property is not susceptible to future damage.
We know how difficult it can be to find a reliable contractor that provides quality mold cleanup in Akron-Canton. Contact 911 Restoration of Akron-Canton for mold decontamination in Akron, Canton, and Louisville.
 Safe and Reliable Mold Remediation in Akron-Canton
 A mold infestation can cause much distress. Mold typically thrives in basements and can eat away at wooden structures, wallpaper, and even glue. If mold is not properly treated by a professional, the mold could continue to grow and cause health concerns.
Our mold remediation technicians can determine if you have an active mold infestation at your home or commercial property.
Because mold is dangerous to your health, it's in your best interest to call an IICRC-certified mold removal professional. 911 restoration has the proper mold cleanup equipment to treat an infestation.
As a nationwide mold remediation company, we strive to provide excellent customer service to customers in Louisville, Akron, and Canton. Contact 911 Restoration of Akron-Canton today for 24/7 mold remediation, flood cleanup, and mold cleanup.
Serving the communities of Akron, Canton, Cuyahoga Falls, Louisville, and surrounding areas.